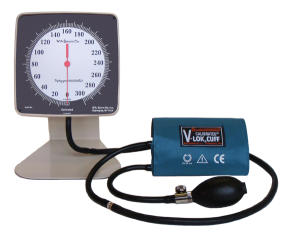 FEATURES:
Easy to read
Convenient desk-top design
300 mmHg Medical grade clinical manameter for precise blood pressure measurements
Complies with American National Standard ANSI/AAMI SP-10 for accuracy and performance (1% + / – 3 mmHg).
Available with Latex or Non-Latex components.
Unique, low reflection, high contrast scale and red pointer to increase visibility and reduce parallax error.
Manometer housing is mounted at a 20º angle for ease of viewing
ORDERING INFORMATION:
Includes: Calibrated® V-Lok® Inflation System, 25" of Straight Tubing and a Steel Stand.
Steel Stand Finish: Neutral Gray with non-skid base ABS plastic
Packaged Dimensions: 10.6" L x 7.25" W x 7.5" H
Cuff Color: Medium Blue
Packaged Weight: 3.25 lbs.
0920 Baum Desk Aneroid

| | | | | | |
| --- | --- | --- | --- | --- | --- |
| 0920 | 0920NL | Adult | Calibrated® V-Lok® | 300 mmHg |   |
0920 Baum Desk Aneroid (Non-Latex)

| | | | | | |
| --- | --- | --- | --- | --- | --- |
| 0920 | 0920NL | Adult | Calibrated® V-Lok® | 300 mmHg | Zippered Case |
0921 Baum Desk Aneroid

| | | | | | |
| --- | --- | --- | --- | --- | --- |
| 1051 | 1051NL | Child | Calibrated® V-Lok® | 300 mmHg | Zippered Case |
0921 Baum Desk Aneroid (Non-Latex)

| | | | | | |
| --- | --- | --- | --- | --- | --- |
| 1051 | 1051NL | Child | Calibrated® V-Lok® | 300 mmHg | Zippered Case |
0922 Baum Desk Aneroid

| | | | | | |
| --- | --- | --- | --- | --- | --- |
| 0922 | 0922NL | Infant | Calibrated® V-Lok® | 300 mmHg | Zippered Case |
0922NL Baum Desk Aneroid (Non-Latex)

| | | | | | |
| --- | --- | --- | --- | --- | --- |
| 0922 | 0922NL | Infant | Calibrated® V-Lok® | 300 mmHg | Zippered Case |
0923 Baum Desk Aneroid

| | | | | | |
| --- | --- | --- | --- | --- | --- |
| 0923 | 0923NL | Newborn | Calibrated® V-Lok® | 300 mmHg | Zippered Case |
0923NL Baum Desk Aneroid (Non-Latex)

| | | | | | |
| --- | --- | --- | --- | --- | --- |
| 0923 | 10923NL | Newborn | Calibrated® V-Lok® | 300 mmHg | Zippered Case |
0924 Baum Desk Aneroid

| | | | | | |
| --- | --- | --- | --- | --- | --- |
| 0924 | 0924NL | Thigh | Calibrated® V-Lok® | 300 mmHg | Zippered Case |
0924 Baum Desk Aneroid (Non-Latex)

| | | | | | |
| --- | --- | --- | --- | --- | --- |
| 0924 | 0924NL | Thigh | Calibrated® V-Lok® | 300 mmHg | Zippered Case |
0925 Baum Desk Aneroid

| | | | | | |
| --- | --- | --- | --- | --- | --- |
| 0925 | 0925NL | Large Arm | Calibrated® V-Lok® | 300 mmHg | Zippered Case |
0925NL Baum Desk Aneroid (Non-Latex)

| | | | | | |
| --- | --- | --- | --- | --- | --- |
| 0925 | 0925NL | Large Arm | Calibrated® V-Lok® | 300 mmHg | Zippered Case |
Desk Aneroid Gauge Only

| | | | | | |
| --- | --- | --- | --- | --- | --- |
| 0930 | 0930NL | Desk Aneroid Gauge Only |   |   |   |