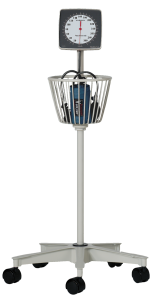 FEATURES:
300 mmHg clinical sphygmomanometer for mobile use.
Meets the American National Standard ANSI/AAMI SP-10 for accuracy and performance (1% + / – 3 mmHg).
Available with Latex or Non-Latex components.
Unique, low reflection, high contrast scale and red pointer to increase visibility and reduce parallax error.
Diecast Aluminum 5-wheel base (20" dia.) with 2" hooded casters and 2 lb. cast iron weight for increased stability.
manometer housing is mounted at a 20º angle for ease of viewing
Heavy gauge machined aluminum
CALIBRATED® V-LOK® INFLATION SYSTEM
Accurate: The Calibrated® V-Lok® system clearly indicates wheether or not the correct size cuff is being used. The center of the bladder is clearly marked on the inner and outer surfaces of rhe cuff for correct application on either the right or left limb.
Comfortable: Cuffs conform to the shape of the limb and have no hard, stiff edges
Durable: Baum cuffs are made of tightly woven, heat set Dacron™ polyester fabric. They are souble stitched at critical points for long wear and treated with an effective anti-microbial agent.
Non-Latex: Available for those who are hypersensitive to natural rubber latex.
Guaranteed: Latex and Non-Latex inflation bags, bulbs and tubing are guaranteed for five years.
ORDERING INFORMATION:
Includes: Calibrated® V-Lok® Inflation System, 8 feet of Extendex® Tubing, 5 Wheel Base and Large Circular Basket
Finish: Neutral White ABS plastic
Packaged Dimensions: 22" L x 21.5" W x 15.5" H
Cuff Color: Medium Blue
Packaged Weight: 17.70 lbs.
1150 Roll-By® Mobile Aneroid

| | | | | | |
| --- | --- | --- | --- | --- | --- |
| 1150 | 1150NL | Adult | Calibrated® V-Lok® |   | Large Circular Basket |
1150NL Roll-By® Mobile Aneroid (Non-Latex)

| | | | | | |
| --- | --- | --- | --- | --- | --- |
| 1150 | 1150NL | Adult | Calibrated® V-Lok® |   | Large Circular Basket |
1151 Roll-By® Mobile Aneroid

| | | | | | |
| --- | --- | --- | --- | --- | --- |
| 1151 | 1151NL | Child/Small Adult | Calibrated® V-Lok® |   | |
1151NL Roll-By® Mobile Aneroid

| | | | | | |
| --- | --- | --- | --- | --- | --- |
| 1151 | 1151NL | Child/Small Adult | Calibrated® V-Lok® |   | |
1152 Roll-By® Mobile Aneroid

| | | | | | |
| --- | --- | --- | --- | --- | --- |
| 1152 | 1152NL | Infant | Calibrated® V-Lok® |   | Large Circular Basket |
1152NL Roll-By® Mobile Aneroid (Non-Latex)

| | | | | | |
| --- | --- | --- | --- | --- | --- |
| 1152 | 1152NL | Infant | Calibrated® V-Lok® |   | Large Circular Basket |
1153 Roll-By® Mobile Aneroid

| | | | | | |
| --- | --- | --- | --- | --- | --- |
| 1153 | 1153NL | Newborn | Calibrated® V-Lok® |   | |
1153NL Roll-By® Mobile Aneroid (Non-Latex)

| | | | | | |
| --- | --- | --- | --- | --- | --- |
| 1153 | 1153NL | Newborn | Calibrated® V-Lok® |   | |
1154 Roll-By® Mobile Aneroid

| | | | | | |
| --- | --- | --- | --- | --- | --- |
| 1154 | 1154NL | Thigh | Calibrated® V-Lok® |   | Large Circular Basket |
1154NL Roll-By® Mobile Aneroid (Non-Latex)

| | | | | | |
| --- | --- | --- | --- | --- | --- |
| 1154 | 1154NL | Thigh | Calibrated® V-Lok® |   | Large Circular Basket |
1155 Roll-By® Mobile Aneroid

| | | | | | |
| --- | --- | --- | --- | --- | --- |
| 1155 | 1155NL | Large Arm | Calibrated® V-Lok® |   | Large Circular Basket |
1155NL Roll-By® Mobile Aneroid (Non-Latex)

| | | | | | |
| --- | --- | --- | --- | --- | --- |
| 1155 | 1155NL | Large Arm | Calibrated® V-Lok® |   | Large Circular Basket |
1170 Roll-By® Mobile Aneroid

| | | | | | |
| --- | --- | --- | --- | --- | --- |
| 1170 | 1170NL | Adult, Child and Large Arm | Calibrated® V-Lok® |   | Large Circular Basket |
1170NL Roll-By® Mobile Aneroid (Non-Latex)

| | | | | | |
| --- | --- | --- | --- | --- | --- |
| 1170 | 1170NL | Adult, Child and Large Arm | Calibrated® V-Lok® |   | Large Circular Basket |
1140 Roll-By® Gauge Only

| | | | | | |
| --- | --- | --- | --- | --- | --- |
| 1140 | 1140NL | Roll-By® Gauge Only |   |   |   |
1140NL Roll-By® Gauge Only (Non-Latex)

| | | | | | |
| --- | --- | --- | --- | --- | --- |
| 1140 | 1140NL | Roll-By® Gauge Only |   |   |   |