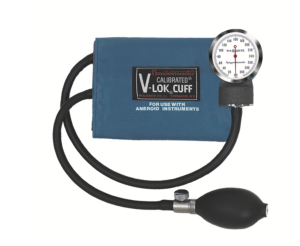 FEATURES:
Easy to read
Medical grade clinical manameter for precise blood pressure measurements
Diecast zinc manometer housing.
Precision low friction movement with twin pre-seasoned phosphor-bronze diaphragm capsules.
Complies with American National Standard ANSI/AAMI SP-10 for accuracy and performance (1% + / – 3 mmHg).
Available with Latex or Non-Latex components.
Unique, low reflection, high contrast scale and red pointer to increase visibility and reduce parallax error.
ORDERING INFORMATION:
Includes: Calibrated® V-Lok® Inflation System and Zippered Case
Finish: Warm Gray textured baked emamel
Packaged Dimensions: 8.5" L x 4.86" W x 2.5" H
Cuff Color: Medium Blue
Packaged Weight: 1.05 lbs.
1050 Baum Pocket Aneroid

| | | | | | |
| --- | --- | --- | --- | --- | --- |
| 1050 | 1050NL | Adult | Calibrated® V-Lok® | 300 mmHg | Zippered Case |
1050NL Baum Pocket Aneroid (Non-Latex)

| | | | | | |
| --- | --- | --- | --- | --- | --- |
| 1050 | 1050NL | Adult | Calibrated® V-Lok® | 300 mmHg | Zippered Case |
1051 Baum Pocket Aneroid

| | | | | | |
| --- | --- | --- | --- | --- | --- |
| 1051 | 1051NL | Child | Calibrated® V-Lok® | 300 mmHg | Zippered Case |
1051NL Baum Pocket Aneroid (Non-Latex)

| | | | | | |
| --- | --- | --- | --- | --- | --- |
| 1051 | 1051NL | Child | Calibrated® V-Lok® | 300 mmHg | Zippered Case |
1052 Baum Pocket Aneroid

| | | | | | |
| --- | --- | --- | --- | --- | --- |
| 1052 | 1052NL | Infant | Calibrated® V-Lok® | 300 mmHg | Zippered Case |
1052NL Baum Pocket Aneroid (Non-Latex)

| | | | | | |
| --- | --- | --- | --- | --- | --- |
| 1052 | 1052NL | Infant | Calibrated® V-Lok® | 300 mmHg | Zippered Case |
1053 Baum Pocket Aneroid

| | | | | | |
| --- | --- | --- | --- | --- | --- |
| 1055 | 1055NL | Newborn | Calibrated® V-Lok® | 300 mmHg | Zippered Case |
1053NL Baum Pocket Aneroid (Non-Latex)

| | | | | | |
| --- | --- | --- | --- | --- | --- |
| 1055 | 1055NL | Newborn | Calibrated® V-Lok® | 300 mmHg | Zippered Case |
1054 Baum Pocket Aneroid

| | | | | | |
| --- | --- | --- | --- | --- | --- |
| 1054 | 1054NL | Thigh | Calibrated® V-Lok® | 300 mmHg | Zippered Case |
1054NL Baum Pocket Aneroid (Non-Latex)

| | | | | | |
| --- | --- | --- | --- | --- | --- |
| 1054 | 1054NL | Thigh | Calibrated® V-Lok® | 300 mmHg | Zippered Case |
1055 Baum Pocket Aneroid

| | | | | | |
| --- | --- | --- | --- | --- | --- |
| 1055 | 1055NL | Large Arm | Calibrated® V-Lok® | 300 mmHg | Zippered Case |
1055NL Baum Pocket Aneroid (Non-Latex)

| | | | | | |
| --- | --- | --- | --- | --- | --- |
| 1055 | 1055NL | Large Arm | Calibrated® V-Lok® | 300 mmHg | Zippered Case |