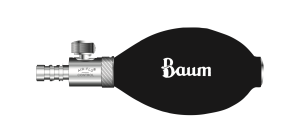 Available with Latex or Non-Latex components and can be used on all manual sphygmomanometers. for all manual sphygmomanometers
• Instantly responsive.
• Smooth operating and long wearing.
• Conical valve seat is integral with the valve body, it cannot loosen and cause leakage.
• Valve body is solid brass, first nickel then chrome plated.
• All key interior parts are stainless steel for corrosion-free, non-stick operation.
These are just some of the features which make the Baum Air-Flo® Control Valve the standard by which others are judged.
.
1890 Bulb and Air-Flo® Control Valve

| | | | | | |
| --- | --- | --- | --- | --- | --- |
| 1890 |   |   | Bulb and Air-Flo® Control Valve |   |   |
1890NL Bulb and Air-Flo® Control Valve (Non-Latex)

| | | | | | |
| --- | --- | --- | --- | --- | --- |
| 1890NL |   |   | Bulb and Air-Flo® Control Valve |   |   |
1891 Bulb only
1891NL Bulb only
1892 Air-Flo® Control Valve only

| | | | | | |
| --- | --- | --- | --- | --- | --- |
| 1892 | 1892 |   | Air-Flo® Control Valve only |   |   |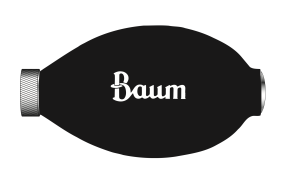 1893 Large Bulb

| | | | | | |
| --- | --- | --- | --- | --- | --- |
| 1893 | 1893NL |   | Large Bulb only |   |   |
1893NL Large Bulb
1894 Large Bulb and Air-Flo® Control Valve

| | | | | | |
| --- | --- | --- | --- | --- | --- |
| 1894 | 1894NL |   | Large Bulb and Air-Flo® Control Valve |   |   |
1894NL Large Bulb and Air-Flo® Control Valve (Non-Latex)

| | | | | | |
| --- | --- | --- | --- | --- | --- |
| 1894NL | 1894 |   | Large Bulb and Air-Flo® Control Valve |   |   |